BigPond Marketing has worked with a variety of clients from large Fortune 500 firms to young, enterprising start-ups in a range of industries.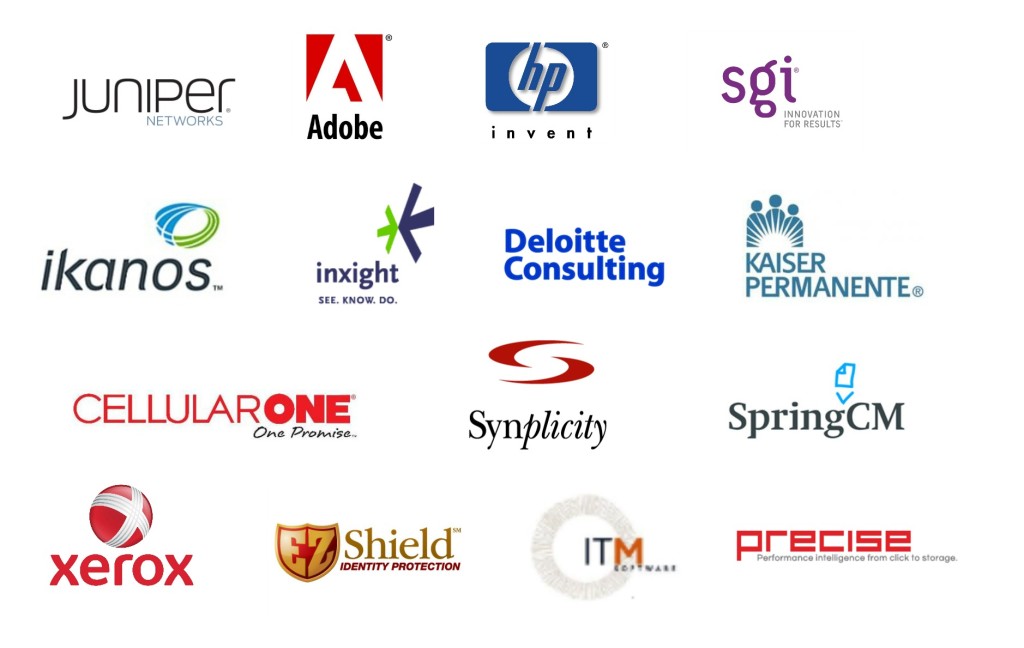 Industries
Software
Cloud/ Software as a Service (Saas)
Hardware
Infrastructure
Life Science/Health
Telecom/Wireless
Professional Services
Consumer
Travel/Hospitality
Silicon Graphics, Mountain View, CA – Provided embedded Marcom management for MIPS division for 18 months, developing and implementing all marketing programs.
GTE Internetworking, San Francisco office CA — Completed market analysis and research on extranet market.
Hewlett Packard, Sunnyvale, CA — Managed North America product launch for LXr rack optimized NT server.
Xerox Corporation, Palo Alto, CA—Provided embedded marketing management serving as Interim Marcom Director for 12 months while built out organization.  Responsible for launch of DocuShare 1.5 and overall marketing programs.
Inxight Software, Inc., Santa Clara, CA — Provided embedded marcom management, serving as Interim Marcom Director. Launched Site Lens Studio™ and consulted on corporate branding, messaging and renaming project.
LogicTier, San Mateo, CA  — Competitive analysis for product nomenclature and corporate brand strategy.
Deloitte Consulting – completed competitive brand analysis, working with a team of brand consultants on a new brand strategy.
Alventive, Santa Clara, CA — Developed and implemented environmental branding for company going through renaming and brand re-visioning from previous corporate name, Visionary Design Systems.
Blue Wireless, Inc., Burlingame, CA — Consulted on marketing and brand strategy for new voice portal tech solution.  Developed initial collateral piece through production.
Cellular One, S. San Francisco, CA – Served as Interim Marcom Director, specifically focused on the Digital PCS product launch.
Closet Dimensions, San Carlos, CA  — Completed new corporate identity, advertising and collateral system for recently purchased custom storage company.
ETown, San Francisco –Market assessment, looking at consumer behavior of the female target market.
netRequisite, San Francisco, CA – Naming, corporate identity and overall marketing strategy for new java development programming and services integrator
RedOpus, San Francisco, CA – Positioning and marketing strategy for ASP salon management hosted solution including developing a print ad and collateral piece.
Synplicity, Sunnyvale, CA — Brand assessment and strategy document.
ThirdVoice, San Mateo, CA– Competitive brand analysis and strategy recommendations.